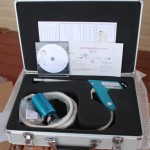 Hi, Everyone,
Dr Rasika Venkatraman, a young doctor then completing her fellowship in pediatric critical-care medicine at Nationwide Children's Hospital in Columbus, OH, spent three weeks at St. Albert's Mission Hospital in March 2015. I met with Dr. Venkatraman before she left, and BHA played a role in coordinating her visit. Dr. Venkatraman kindly helped BHA by delivering a new cryotherapy unit we'd purchased for the hospital's cervical cancer prevention program.
After Dr. Venkatraman returned, she sent photos taken during her visit, with captions that describe her experiences. We present them here.
Take care and keep well…Darrell
In this video, expectant women staying at the St. Albert's mother's shelter sing a welcome song for Dr. Venkatraman. Healthy expectant mothers from far-flung villages, and women with problematic pregnancies, stay at the mother's shelter during their final weeks of pregnancy to assure a safe delivery in the hospital.