Dear Friends,
Here is a quick overview of how Better Healthcare for Africa's work in Zimbabwe is going.
Conditions in Zimbabwe remain dire. COVID has made a challenging public-health situation worse, and we have much more to do.
BHA is aiding good, dedicated people at St. Albert's and at Karanda mission hospitals. The brief description and the photos below describe some of the programs and initiatives we have undertaken, thanks to your support.
Please help us continue our work. If you are so inclined, please donate at www.betterhealthcareforafrica.org/donate
Thank you, and we wish you Happy Holidays and a healthy New Year!
…Darrell
PS: To learn why so many doctors leave Zimbabwe, watch this SABC (South Africa) news story.
Improving Healthcare at St. Albert's and Karanda Mission Hospitals
Your help, our efforts, the passion and idealism of those on the front lines have made an immense difference to the staff and patients at St. Albert's and Karanda Mission Hospitals in rural Zimbabwe.
But equipment is old, sometimes barely functional and in need of repair. Irrigation pumps fail, limiting access to clean water — we've observed surgeons scrubbing over a basin of water prior to performing a C-section– and reducing irrigation of farm fields that the hospitals established to provide food for patients and staff. The power grid is turned off for much of the day, every day.
Yet, despite many hardships, the commitment and excellence of hospital personnel, buttressed by your generous donations, those of BHA board members, along with the generosity of many friends and family members, we have produced extraordinary results.
Here is a short and incomplete list of what has been made possible through a collaboration between Hester and Lowell Schnipper, Darrell and Barbara Ward and Ken Schafermeyer at Better Healthcare for Africa.
Screening for Cervical Cancer
23,000 women screened, hundreds of cervical cancers prevented…ongoing for 9 years.
Improving Critical Infrastructure at St. Albert's
Upgraded the diagnostic radiology unit;
Provided analytical laboratory equipment including a Gen Xpert to make molecular diagnoses of pathogens (HIV, TB, etc.), an auto-analyzer to facilitate efficient analysis of blood for chemical abnormalities;
Purchased new equipment for the Physical Medicine and Rehabilitation Department.
Support for Sustainability Projects
A poultry project to raise hens and sell eggs for cash to pay bills and purchase medicines;
Purchased goats to develop a herd that will produce meat and milk for patients;
Maintained a farm that provides food for patients and staff.
Improve infrastructure
Purchased a new water pump powered by an electrical generator bringing water from reservoir to hospital;
Installed a solar powered water pump to move water from the reservoir to the hospital and farm so they can operate independently of the national grid;
Purchased solar batteries for the operating room and other areas to assure critical equipment can run when the power grid is off much of each day.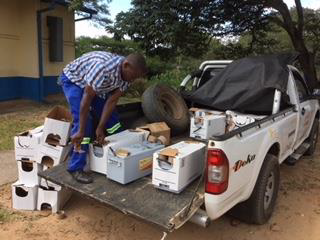 Provided Supplies/Equipment
Sent two 40-foot shipping containers of essential hospital supplies including anesthesia machines, suture material, and personal protective equipment to both hospitals. A third that includes badly needed laundry equipment, is being delivered in December 2022.
Purchased food for needy grandmothers, orphans and the most vulnerable.
Please donate to BHA so we can continue this critical work. betterhealthcareforafrica.org/donate
The 40-foot container of medical equipment and supplies arrives at St. Albert's Mission Hospital in 2021. The container and its shipment were made possible by donations to BHA in support of the work of Dr. Lowell Schnipper and to BHA in support of St. Albert's and Karanda mission hospitals. The supplies and equipment were provided by SOS, a medical surplus recovery organization in Louisville, Kentucky, which also organized the shipment. The last two photos show hospital director Dr. Julia Musariri. Our third container of equipment and supplies for St. Albert's and Karanda will arrive at St. Albert's around Christmas Day, 2022.