Feb. 27 – Mar. 12 – Darrell Ward travelled to Zimbabwe. During the trip:

Darrell accompanied Luke Hingson, president of Brother's Brother Foundation (BBF) and a representative from Hospital Sisters Mission Outreach to visit St. Albert's and four other mission hospitals: Howard Hospital, St Paul's Mission Hospital, Murewa; Mt. St. Mary's Hospital, Wedza; and Muvonde Mission Hospital.
BHA hand-carried medical supplies that were shared among the five hospitals. The supplies were provided by Columbus area hospitals and by Brother's Brother.

BHA delivered several teaching models for the new St. Albert's midwifery training program.
Dr. Elizabeth Tarira introduced Darrell to Dr. Anna Nyakabau, an oncologist at the University of Zimbabwe and Parirenyatwa Hospital. Dr. Nyakabau explained the need and potential for practical, affordable cervical cancer screening programs that could prevent the disease, which is the leading cause of cancer death in Zimbabwe.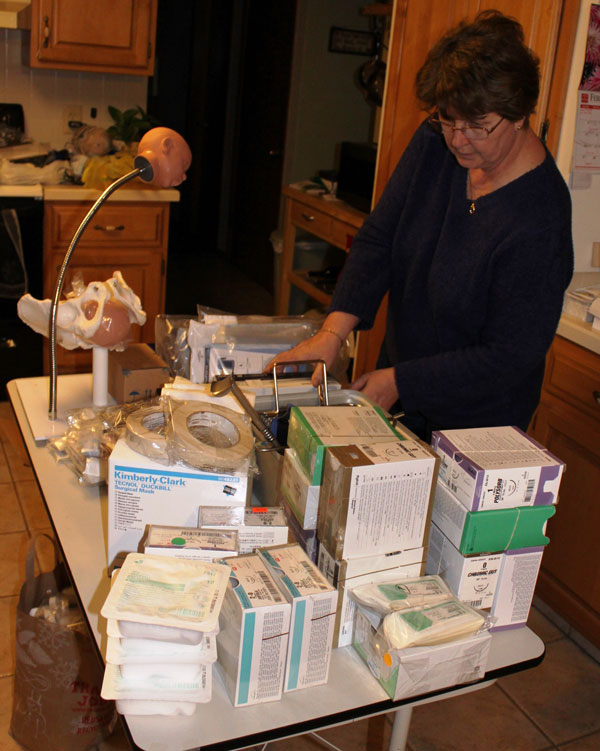 Through BBF, BHA worked with International Orthodox Christian Charities to provide five pediatric wheelchairs for St. Albert's and for the Mutemwa Leprosy and Care Centre in Zimbabwe.
BHA worked with BBF and HSMO to supply and support a 40-foot container of donated medical supplies that BBF shipped to St. Albert's.
Purchased a large refurbished autoclave for Muvonde Mission Hospital that was shipped by BBF to Muvonde as part of another container shipment. The hospital had been without a large autoclave since 1990.
BHA obtained hundreds of sutures from the Global Links Suture Program and shipped them to St. Albert's, which shared many of them with other mission hospitals.
BHA accepted donations on behalf of Maipelo Trust, a charity registered in Gaborone, Botswana, that provides medical care to Zimbabwean and other migrant and refugee families with AIDS in Botswana. Maipelo Trust was started by American pediatrician Dr Jon Silverman, who was working in Botswana and who volunteered from several months at St. Albert's the summer of 2007.
Jon and his pediatrician wife were volunteering in Botswana, serving in Princess Marina Hospital. In addition to that work, they were struggling to treat destitute refugees from Zimbabwe, Malwai and Congo who fled to Botswana for a better life. Some of these individuals developed AIDS and needed medical care, but, as foreigners, they didn't qualify for Botswana's national healthcare plan and were left to suffer. Jon worked with Dr Diana Dickinson, who ran a well-established private clinic called Independence Surgery in Gaborone. Dr. Dickinson organized Maipelo Trust and runs it out of her clinic to help these needy individuals, with the help of Jon and three other physicians.