The BHA Board of Directors consists of four volunteers.
Darrell E. Ward, MS, recently retired as associate director for cancer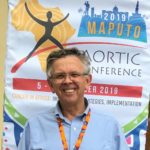 communications at The Ohio State University Wexner Medical Center and Ohio State's Comprehensive Cancer Center – Arthur G. James Cancer Hospital and Richard J. Solove Research Institute (OSUCCC – James).
Darrell was a science and medical writer for Ohio State's cancer program for over 25 years. He worked for the program from 1990-2000 and from 2003 through 2018. Darrell retired from Ohio State as of January 2019. From 2001-2003, he wrote about cancer research at Washington University School of Medicine in St. Louis.
In 2000, he spent six months in Southern Africa as a Fulbright Scholar learning how Africans were coping with the AIDS epidemic at the grassroots level. He spent two months each in Botswana, Swaziland and Zimbabwe.
During his time in Zimbabwe, he spent several weeks at St. Albert's Mission Hospital and came to greatly admire the dedication, resourcefulness and sacrifice of the women doctors and staff as they struggled to provide care in a collapsing economy. He has worked to help support the hospital ever since. His admiration for the hospital's physicians and staff continues. He and his wife, Barbara, and several friends started Better Healthcare for Africa, a 501(c)3 charity founded February 9, 2009.
Today, BHA supports cancer prevention and education efforts and other needs at St. Albert's Mission Hospital and at Karanda Mission Hospital. BHA's goal is to reduce suffering from disease and injury in sub-Saharan Africa.
n 2015, Darrell led the development of Introduction to the Science of Cancer (ISOC), a free, noncredit online course offered by the OSUCCC – James. BHA has used ISOC videos and print material to conduct cancer-education workshops for nurses, midwives and other staff at St. Albert's and Karanda mission hospitals.
Lowell E. Schnipper, MD, immediate past Clinical Director of the Cancer Center and Chief, Division of Hematology/Oncology at the Beth Israel Deaconess Medical Center and the Theodore W. and Evelyn G. Berenson Professor, emeritus at Harvard Medical School. He is the Associate Director of the Dana-Farber/Harvard Cancer Center for membership, Deputy Associate Director for Clinical Sciences and a member of its executive committee.
Dr. Schnipper received his MD from the State University of New York Downstate College of Medicine, summa cum laude. Prior to joining the BIDMC, he trained at the Yale New Haven Medical Center, the National Cancer Institute, and Washington University.
In addition to his clinical work and teaching, Dr. Schnipper is deeply committed to oncology research and has received numerous peer-reviewed grants over the years from the National Cancer Institute and American Cancer Society. His research has contributed to our understanding of the mechanism of action of anti-viral and anti-neoplastic therapies, genomic instability in cancer, and more recently, quality and value in cancer care.
At the Beth Israel Deaconess Medical Center Dr. Schnipper and colleagues built an innovative hematology-oncology clinical and training program. This is complemented by a translational research program that focuses on understanding the biology of cancer and using that knowledge to develop innovative approaches to patient care.
Dr. Schnipper has a long commitment to healthcare policy and medical ethics. He has been a member of the Board of Directors of the American Cancer Society and president of its Massachusetts Division. He is the recipient of the St. George Medal from the American Cancer Society and a Distinguished Public Service Award from the American Society of Clinical Oncology. Dr. Schnipper has held numerous leadership positions in the American Society of Clinical Oncology (ASCO) including Chairmanships of the Cancer Research, Ethics and Public Issues Committees, and currently serves as the Chairman of the ASCO Task Force on the Value of Cancer Care.
Dr. Schnipper's professional interests extend to Global Oncology. Since 2011 he has collaborated with Better Healthcare for Africa and other NGO's that support healthcare in under-resourced populations. These initiatives have resulted in extensive replacement/refurbishment of needed equipment in a hospital in rural Zimbabwe, as well as collaborations with physicians and nurses at mission hospitals in Zimbabwe to develop and implement a program for screening for cervical cancer. To date, in excess of 16,000 women have been served by this health education and cancer prevention initiative.
Kenneth W. Schafermeyer, PhD, Professor and Director, Office of International Programs at the St. Louis College of Pharmacy
Ken makes arrangements for pharmacy students to participate in international service learning programs and clinical rotations in international sites such as South Africa, Swaziland, Ethiopia and Bangladesh. He has participated in or led over 20 Global Village Missions to help build houses in developing countries for Habitat for Humanity International.
Barbara Ward, Retired senior mortgage research representative for J.P. Morgan Chase
Barbara's work experience includes providing bookkeeping and clerical support for a business that included two hotels, a restaurant and a ranch; providing clerical support at two law firms, a specialty foods business, and a private marine research laboratory. She has bicycled through Europe and traveled to Botswana, where she visited a poor community in Francistown.