"The promotion of the health and wellbeing of women in the Karanda community has improved significantly thanks to the cervical cancer screening program. Our sincere appreciation to our generous supporters. The program will go a long way to promoting and protecting the health of women in rural Zimbabwe." Dr. Paul Thistle, Ob/Gyn, Acting Chief Medical Officer, Karanda Mission Hospital, Cervical Cancer Screening Report, 2018
Cervical Cancer Prevention
St. Albert's Mission Hospital
As of December 31, 2018: St. Albert's cervical cancer prevention program had screened 10,831 women (1,959 in 2018; identified 458 women with precancerous changes and 122 women with possible cervical cancer. The program began Aug. 1, 2013. The program has been supported from Jan. 2014 – Dec. 2019 by grants from the Sarita Kenedy East Foundation obtained by BHA board member Dr. Lowell Schnipper.
Karanda Mission Hospital
Cervical screening Clinic – As of December 31, 2018, the Karanda Mission Hospital cervical cancer prevention program had screened 7,486 women; identified 581 women with precancerous changes and 132 women with possible cervical cancer. A grant from the Sarita Kenedy East Foundation, and also obtained by Dr. Schnipper, have supported the program for Jan. 2017 through the end of December, 2019.
HPV study – Dr. Paul Thistle, working with Dr. Lowell Schnipper, also conducted a study to learn what types of cancer-causing HPV were present in women who came to Karanda for cervical cancer screening and tested positive for HPV, and who gave permission to participate in the study. The study sought to enroll 400 women aged 30 to 62 years, and it was well underway at the end of 2018. BHA coordinated the purchase of reagents required for the study. The study's findings should give a better understanding of the types and distribution of cancer-causing HPV in Zimbabwe and improve the screening and HPV vaccination efforts in Zimbabwe, especially among HIV-positive women.
Improving Women's Health
Darrell worked with Dr. Paul Thistle at Karanda Mission Hospital to write "Important Information About Women's Health," an eight-page brochure for women in the community. Both Shona-language and English versions were produced. Dr. Thistle worked with a Zimbabwean medical student at the University of Toronto to translate the English version into Shona, BHA paid for the printing of both versions, and the brochures were delivered to Karanda by an American medical student in Minnesota who visited Karanda. You can download both versions here.
Meeting Critical Needs
BHA sent $5,055 to St. Albert's to purchase urgently needed penicillin, oxytocin, sterile gloves, suture, syringes and needles, intravenous solutions and other items. Dr. Musariri sent her thanks to BHA donors:
Dear Friends at BHA,
We are all very grateful for the funds you availed us to buy medicines and medical sundries which were out of stock. We had a relief of the urgently needed medicines when you came to our help. We were able to resuscitate patients and to treat them. Thank you for your care, concern and understanding. On behalf of the St Albert's Mission Hospital team we wish you the best of God's care and blessings.
Dr. Musariri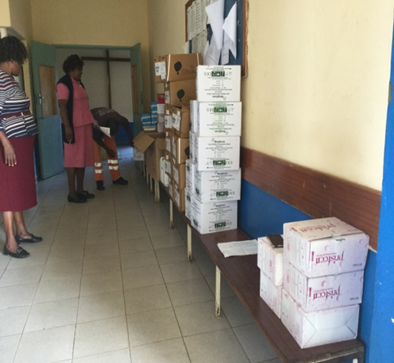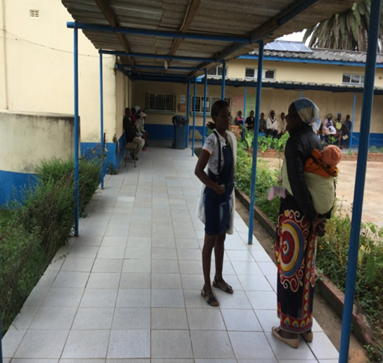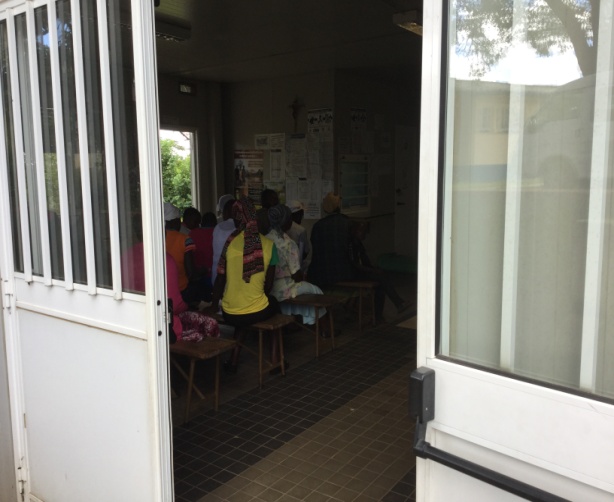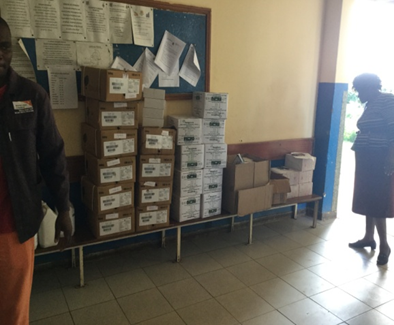 Other accomplishments
BHA, with help from designer Alyson Kazkowski, produced the CancerServe Trust program brochure for the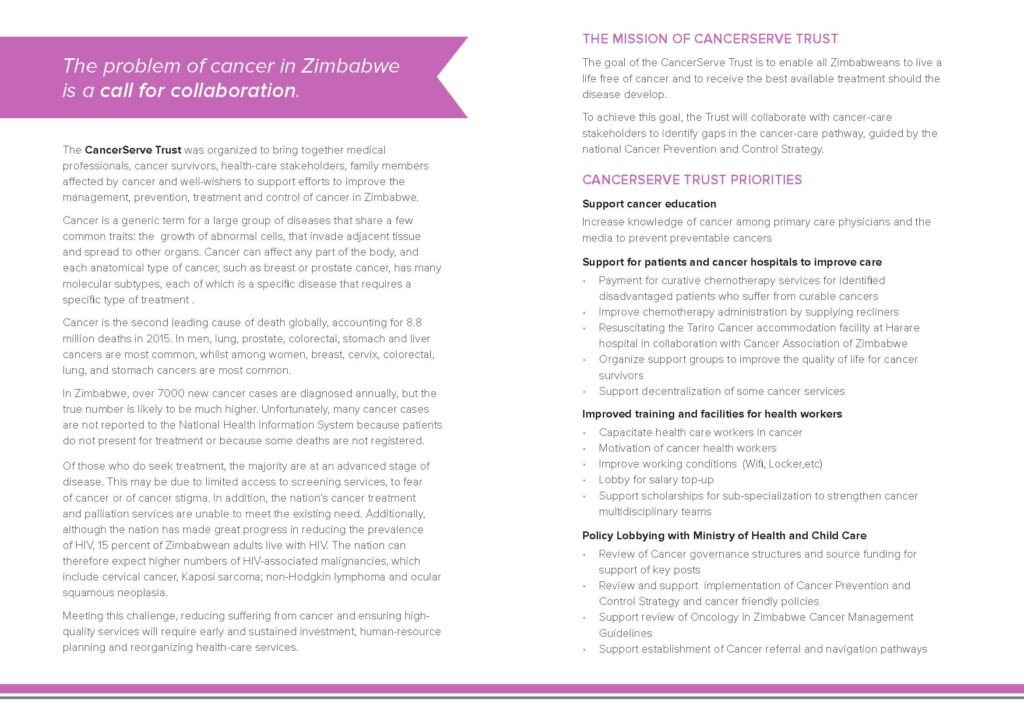 2018 visit to Zimbabwe – September
At St. Albert's
Workmen were grading the 2-km section of road into the township. It was to be paved into the hospital and up to the mission church. That mile or so of road has always been rutted dirt that turns to mud in hard rain. Cholera was a problem in Harare's high-density areas, but no cases had occurred in the St. Albert's region.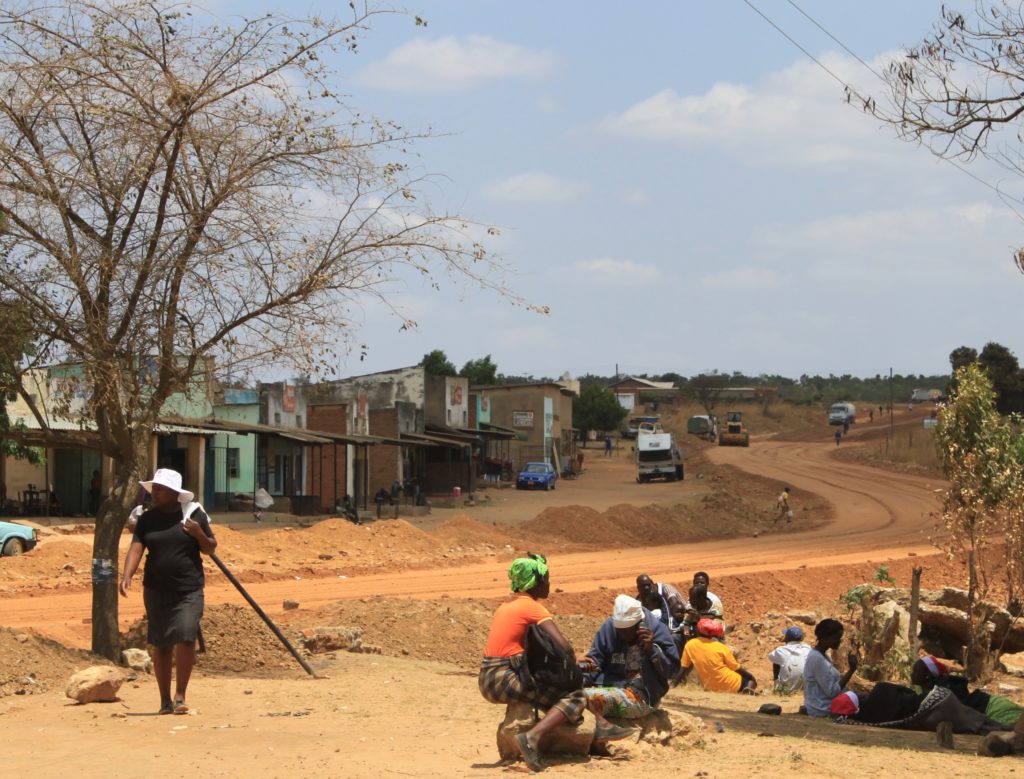 Visited the farm project and reservoir and discussed the water system needs.
Discussed the needs of the cervical cancer clinic with manager Mrs. Angeline Bowman, registered midwife.
Toured the hospital and discussed its needs with Medical Superintendent Dr. JuliaMusariri.
Visited the home of Samuel and Rosa Mateo and recorded video of Rosa encouraging women to be screened for cervical cancer. She had been screened at St. Albert's and was found to have an early cancer that required a hysterectomy.
Held a half-day cancer education workshop for nurses, midwives and other staff in the hospital's chapel. The workshop used videos and other material from Introduction to the Science of Cancer (ISOC), an online the cancer course offered by The Ohio State University Comprehensive Cancer Center – James Cancer Hospital and Solove Research Institute (OSUCCC – James). There were about 40 attendees.
At Karanda Mission Hospital
Dr. Schnipper met with Dr. Paul Thistle, Ob/Gyn, to discuss Karanda's VIAC screening program and the program's associated HPV study.
Held two half-day cancer-education workshops for 41 nurses, midwives and other staff using six ISOC videos and booklets provided by the OSUCCC – James. Kiersten Hutchinson, physician assistant at Karanda, moderated the videos and placed the information in a local context.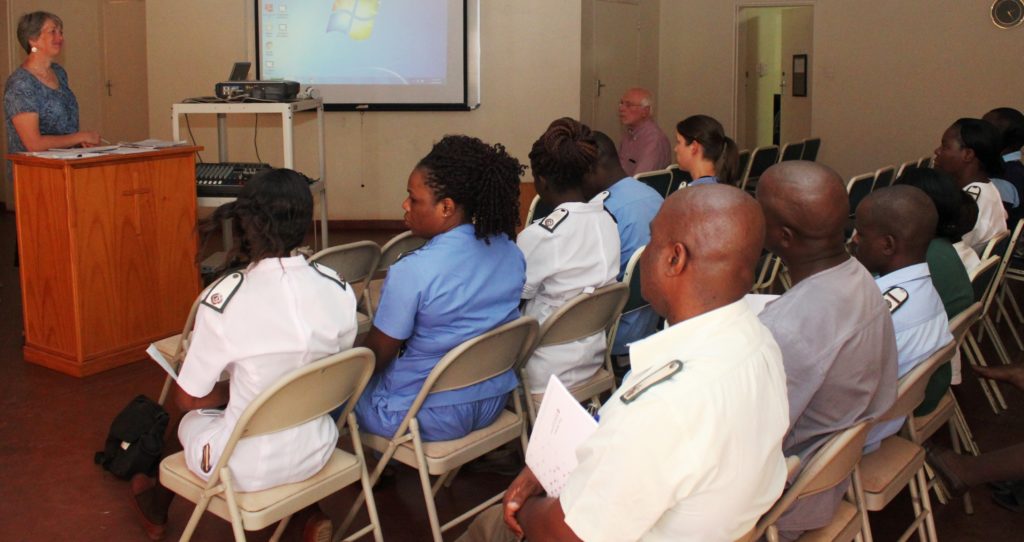 In Harare
Attended the rollout event for the CancerServe Trust, an initiative spearheaded by Dr. Anna Nyakabau to improve cancer care and community education in Zimbabwe. Dr. Schnipper spoke at the event and BHA helped prepare a brochure about the trust for the event.