Your donations to Better Healthcare for Africa continued to help ease suffering, save lives and preserve families in 2021. Some of these funds were contributed to support St. Albert's Mission Hospital and the work of Dr. Julia Musariri and her staff, and some were contributed to support the work of Dr. Lowell Schnipper, and some were contributed by BHA Board members. But no matter what their source, these funds helped meet critical needs at St. Albert's and Karanda Mission Hospitals.
Dr. Musariri wrote in July that the hospital and the nation were in the midst of strict COVID-19 lockdowns, and that she herself had developed the illness but was improving. "The rural folks are now testing positive and there is a stampede for vaccination from all corners. The incredulous are now coming forward. It is chaotic because the quantities of vaccine will never be enough at any give time. We hope that with the coming of the hot season the situation will improve."
Dr. Musairi wrote the following thank you for funds sent by BHA in July.
We appreciate immensely your support in the melt down of our economy and deterioration in the health service system worsened by the pandemic. Thank you so much.
Be always blessed.
Dr Julia Musariri
Medical Superintendent
St Albert's Mission Hospital
Cervical Cancer Prevention
Cervical screening for cancer was greatly inhibited in 2021 due to travel restrictions and COVID-19 lock downs. Nonetheless, from the program's inception, St. Albert's and Karanda mission hospitals together have screened 23,000 women – 2,223 in 2020 alone. Of these 2,223, 68 had precancerous changes and 50 had cancer and were sent for treatment. Both hospitals perform physical breast exams to identify possible breast cancers in women who come for cervical cancer screening.
Both hospitals perform physical breast exams to identify possible breast cancers in women who come for cervical cancer screening, and both hospitals continued educational outreach in their catchment areas.
The St. Albert's and Karanda cervical cancer screening programs have been supported by grants obtained by BHA board member Dr. Lowell Schnipper.
Restore air conditioning and provide vacuum extractor
In January, BHA wired $4,500 to St Albert's Mission Hospital to replace the air conditioning in the hospital's operating theatre and to purchase an obstetric vacuum extractor, which is used to assist with problem deliveries. "We appreciate this support in taking care of the health of women in labour and their babies," Dr. Musariri wrote.
Shipment of medical supplies and equipment
Donations to BHA and donations supporting Dr. Lowell Schnipper's work were used to send a 40-foot-container filled with medical equipment and supplies to St. Albert's and Karanda Hospital. The shipment departed the USA in December 2020 and arrived at St. Albert's in April 2021. It included a badly needed anesthesia machine for the hospital.
The material loaded onto the container was provided by Supplies Overseas (SOS ) located in Louisville, Kentucky. They include an anesthesia machine, oxygen concentrator, dental chair, cast saw, centrifuge and a range of adult and pediatric supplies related to anesthesia administration, general surgery, intravenous administration, orthopedic supplies, oxygen, syringes, suction apparatus and clinical laboratory supplies.
The cost of the container broke down this way:
Donated supplies that went into the container: $9,500
Shipping the container to the Port of Beira, Mozambique: $9,100
Port clearance and import fees: $2,000
Overland shipment of the container from the Port of Beira to St. Albert's hospital: $2,500
Goat project
In July, BHA purchased a second buck for the goat herd at St. Albert's Mission Hospital farm project. The goats provide milk and meat for hospital patients. The bucks also are rented out for breeding in the community. The hospital has 46 does and three female kids, plus two rams.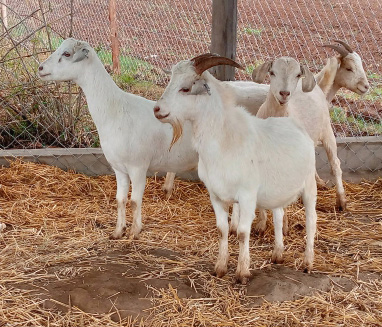 Solar Batteries
In October, BHA purchased eight solar batteries to replace the exhausted batteries needed to supply power to St. Albert's operating theatre.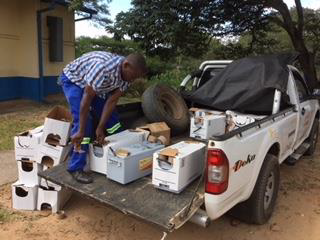 Hunger Relief
BHA board members provided several thousand dollars to enable the hospital to purchase mealie meal, cooking oil, beans and other basic food items that are used to make up food hampers. The food hampers are distributed to the most vulnerable, such as malnourished elderly and orphan-headed households in the community.
Christmas party for children and pregnant women at St. Albert's Community
St. Albert's Mission Hospital traditionally hosts a Christmas party when possible for children in the mission community. This year, two BHA board members donated $500 to help the hospital hold again in 2021. Some 65 children attended the 31 December party, which included a good meal. The hospital hosted a separate celebration for 54 pregnant women who were staying at the hospital's Mothers Waiting Home because they were at risk for problem deliveries. Some of the funds were also used to purchase food for disadvantaged children and the disabled. See photos and learn more about the party here.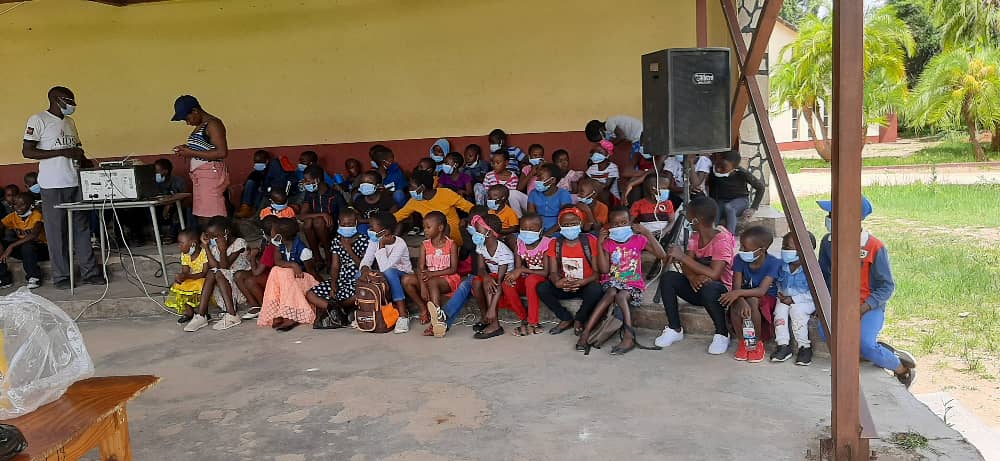 Last but not least
My personal thanks to everyone for your support of BHA. I especially want to thank those who send monthly donations, which are greatly needed and much appreciated, and those who send donations in support of Dr. Schnipper's important cancer prevention work in Zimbabwe.
Take care and keep safe everyone…Darrell