Hi, Everyone,
In late May 2013, three young women – Maki Matsumura, Kelsey Lynd and Tracy Powell – who were graduates of the Yale nursing program and had completed their first year of training as nurse practitioners at Yale visited St. Albert's for about six weeks. Here is Tracy's account of their visit.
Kelsey, Maki, and I finally made our way to St. Albert's. What everyone who visits says is true: this place is miraculous. This rural community hospital is an inspiration to us. They provide care for so many people regardless of ability to pay and receive very little money from the Zimbabwean government.
Our experience in Zimbabwe exposed us to many situations and diseases that were cared for and treated using little to none of today's sophisticated technology.  We assisted staff with catching babies, dressing and packing wounds, vaccinating infants and children, monitoring pregnant women and fetal development, and dressing burns. Tuberculosis, malaria, and HIV are abundant and a part of life, as is death, which we witnessed daily. We helped where we could but came away with much more, including lifelong friends. There are many stories, both hope-filled and heartbreaking. Here, we've included a few pictures with a brief narrative.
Demand for Healthcare
No matter which day you visit the hospital you will always see a line
of people waiting to be seen or treated. We volunteered at the hospital six days a week arriving at 7:30am and leaving no earlier than 4:30pm and people would still be waiting. The need for care far exceeds the resources but the staff (nurses, doctors, and assistants) stay until the last patients have been triaged. They continue to work diligently because of their compassion for people. Patients travel far distances to receive care from St. Albert's. The patients have heard about the exceptional care provided regardless of ability to pay.
Setting Large Bones
We met Broom the first day in the wards. She looked healthy; laughing while lying flat in bed. Knowing about her life would take us six weeks to discover. Before arriving St. Albert's, Broom was out of work for two months fighting tuberculosis and HIV. She lives in a rural community just across the Zimbabwean border in Mozambique. She is a divorced mother of three children, her youngest being 4 years old. She was visited often by her mother and youngest son.  She was on her way to recovery and going back to work when stepping outside her concrete thatched roof hut, she tripped over the front door stoop. She sustained a broken femur.
Her family brought her to St. Albert's because they had heard she could get good care. When we met Broom she had been at St. Albert's for just a few days. She had one X-ray which showed a right femoral fracture. She needed and was advised to go to Harare where they could pin the leg; the best possible chance for her to heal. Her family could not afford the $800 procedure nor the cost of transport to the hospital ($16). So, the doctors and therapist remaining hopeful put her in traction for six weeks. To separate and reset the large bone, they pulled her leg with the maximum weight that the skin can handle, 11kg, which comprised of old dumbbells and carburetor parts.
Over the next six weeks of Broom's stay, we would get to know her, her family, and the tragic story of her divorce, HIV status, and the consequences of being out of work for so long. At the end of six weeks and our stay at St. Albert's, Broom had another X-ray. We all crossed our fingers for the best possible results,  some indication of bone growth.
As seen in the X-ray she holds in the picture, there was no visible change. She had been lying flat in the hospital bed for over six weeks with no improvement and no means to pay the daily growing hospital charges. After we left, the doctors updated us that after another six weeks with no changes they casted Broom's leg and sent her home. There was nothing else they could do for her. Her total hospital bill for over 12 weeks of stay was $400. She was unable to pay for any of it.
Rural Health Clinics
Maki joined Dr. Musariri on a routine inspection visit to rural health centers. These basic clinics vary in size and capability and are staffed only by one primary nurse, one nurse aide and a few assistants (who do repairs, cleaning, and
maintenance). They see everyone and everything and are taught to refer out to the district hospital (such as St. Albert's) with issues and illnesses they are unable to properly handle.
Rounds
We rounded in the mornings with the doctors, and then assisted the one nurse with vitals, carrying out orders, and doing intakes and discharges (the work of 5-6 nurses).
The cases are mostly of malaria, TB, various complications of HIV/AIDS, as well as patients  experiencing complicated stages of heart failure, diabetes, botched abortions and septic miscarriages.
Wound Infection
This 4-year old girl (right) had an infected wound. The doctors tried to drain her leg without success. She had two courses of antibiotics with no improvement. We suspected osteomyelitis but unfortunately obtaining a culture was not an option. The available antibiotics would not be strong enough to treat
osteomyelitis. We inquired about purchasing vancomycin to treat the infection, but the country did not have any available. With no other options, the girl was sent home.
Maternal and Fetal Care
Kelsey providing pregnancy and fetal development exam for a 35-week pregnant woman (right). The exam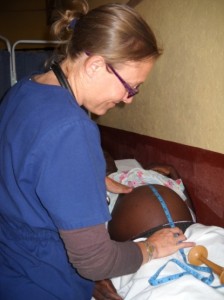 includes inspection of thyroid, mouth lesions, lower extremity swelling and genital sores/abnormal bleeding. The exam also includes fetal measurement and heart-rate monitoring. The women are given iron supplements, malaria prophylaxis, and HIV medication as indicated.
Newborn Care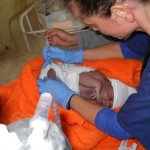 Right: Tracy giving a vitamin K shot to a newborn. Erythromycin eye ointment for chlamydia/gonorrhea prophylaxis are also provided. Those infants born to HIV-positive mothers also receive antibiotics and HIV medication.
Burn Care
This 5-year old girl (right) was playing with her siblings and tripped into an open fire. A pot of boiling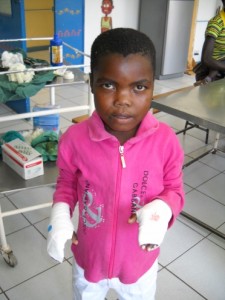 water fell on her hands giving her second-degree burns. Kelsey, Maki, and I went in everyday to change her dressing. Her hands were cleaned with betadine then wrapped with gauze covered in silvadene. She healed fast and was discharged home in four days.
Pediatric Traction
This 4-year-old girl (right) fell off an ox cart and broke her femur, a very common injury in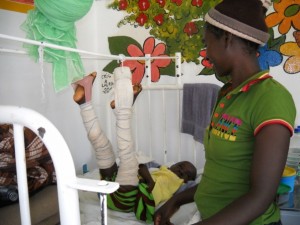 Zimbabwe. The girl remained in 90-degree traction for 10 days before being x-rayed for bone growth. During her six week stay, the girl remained in the supine position with legs elevated unable to move. Nonoperative treatment is the gold standard for children under six as they have excellent remodeling capabilities.
Sustainable Food Supply
St. Albert's grows a majority of the patient's food on a plot of land they call "The Projects." They grow kale, carrots, onions, tomatoes, corn and raise oxen, rabbits, pigs, and chickens.
The average cost to feed one patient is $1.00 a day which includes three meals and two snacks.