Hello, Everyone –
I am writing to you from St. Albert's Mission Hospital in Zimbabwe. The hospital is located in a rural area 120 miles north of the capital city Harare. I am in second and final week here, and I am working with the doctors at St. Albert's to hold two one-day cancer-education workshops. The workshops will use selected video lectures from the free, noncredit, online video course Introduction to the Science of Cancer. To learn more about the online course, visit http://go.osu.edu/scienceofcancer.
Cancer is a serious problem in sub-Saharan Africa, where cervical cancer and breast cancer are leading causes of cancer death among women and prostate cancer is a leading cause of death among men. Liver, stomach and colorectal cancers are also serious problems. People in Zimbabwe and throughout the region have a limited understanding and awareness of cancer, and fear and stigma can prevent early detection. Treatments for advanced cancer are unavailable, unaffordable or both for most people, making cancer prevention and early detection all the more important. But both require comprehensive cancer education presented in an appropriate and culturally sensitive way.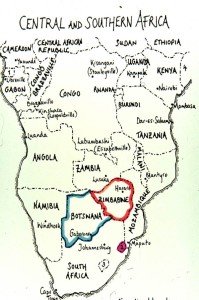 Rural hospitals in low-income countries such as Zimbabwe have few opportunities for comprehensive cancer education. For these workshops, The Ohio State University cancer program and Ohio State's Office of Distance Education and eLearning, along with staff at St. Albert's, are attempting to use selected video lectures from the online course, followed by a question and answer period, to bring cancer education to this rural hospital. A key question is whether a laptop computer, digital projector and audio equipment provided by the host hospital is a practical way of holding such workshops.
Hospital director, Dr. Julia Musariri, and staff physician Dr. Stanely Tapesana were willing to give it a try. Together we planned to hold two workshops, one for hospital staff and one for secondary- and primary-school teachers in the area. We also thought we would share this exciting opportunity and experience with the larger OSUCCC – James community.
St. Albert's lies along an unpaved road and on the edge of the Zambezi escarpment. At certain points the Zambezi Valley is visible and on a clear day Mozambique is visible on the horizon.
The 140-bed hospital is located along an unpaved road about 35 miles from the town of Centenary. It includes male, female, maternity and children's wards and a small staff ward. Clinics include outpatient and Family and Child Health, opportunistic infection, an eye clinic and a cervical cancer prevention clinic. This clinic screens women for precancerous changes of the cervix using a low-tech, low-cost screening method called visual inspection with acetic acid and cervicography (photography of the cervix for quality control).
St. Albert's also includes pharmacy, rehabilitation and X-ray departments, a surgical theatre where caesarian sections and certain other operations are performed, a clinical laboratory and kitchen and laundry. In addition, there is a midwifery school, a water and a farm project to feed patients. The farm project grows corn, tomatoes, potatoes and other crops; pigs and rabbits are raised to provide protein. The St. Albert's water project provides a back-up water supply from a small reservoir created by damming a seasonal stream.
Finally, the hospital has community education and home-based care programs, and an orphan program which accepts donations to keep orphaned children in school.
Key challenges facing the hospital include an erratic electrical supply, low levels of medicines, short staffing, maintenance of hospital equipment and a lack of backup equipment. Water shortages are also a problem. These are due to drought conditions and to the frequent power outages. Several wells, called boreholes, on the hospital grounds are the primary source of water. Electrical pumps move water from the wells to water towers that serve the hospital and other mission buildings (the doctors' house, staff housing, the priests' house, and primary and secondary schools). Shortages of electricity means water pump from the ground. The operating theatre and other areas of the hospital are equipped with solar power, and there is a backup generator, which is used only when necessary to conserve diesel fuel and delay breakdowns.
Care at St. Albert's is provided by three doctors, 27 qualified nurses and 14 nurse aids. Patients arrive with tuberculosis, upper-respiratory-tract infections, malaria and other parasitic and infectious diseases, HIV-related illnesses, epilepsy, motor-vehicle accidents (automobiles, motorcycles buses and oxcarts), burns sustained from tobacco curing and open cooking fires and snake bites. Children can suffer HIV-related infections, burns to the hands and feet, broken bones sustained by falling from trees while gathering fruit and from oxcarts. The doctors deliver more than 2,000 babies per year and perform more than 300 caesarian sections per year. Pre-eclamptic mothers and mothers with complex malaria can be particular challenges.
Women arrive at the hospital with advanced breast cancer, cervical cancer or Burkitt lymphoma, and men with lung cancer and prostate cancer. The doctors must refer these patients to a large government hospital in Harare. But even there, treatment options are limited and costly. This is an area of subsistence farmers, many of whom find it difficult to pay the cost of bus fare to the city.
Such problems plague hospitals throughout the developing world. And it is an environment where cancer and other health education is badly needed. "Understanding Cancer" is the title of the Ohio State cancer workshop. We had planned to hold one workshop for St. Albert's hospital staff and a second for secondary- and primary-school teachers. But few hospital staff and few teachers can take an entire day for these workshops, so the decision was to open both workshops to both groups, allowing them to attend when they can.
I am working with Dr. Tapesana, Dr. Musariri, information officer Joseph Makaza, and other hospital staff to prepare for the first workshop tomorrow, Tuesday, and the second, Wednesday. We will hold them in Mount Purpose Hall, the hospital's recently built chapel.
We will see how it goes…and so will you.
###