Here is an email from Medical Superintendent Dr. Julia Musariri about conditions at St. Albert's on 22 April 2020. Stay safe and keep well…Darrell
I hope to find you well. We have a malaria outbreak. We are seeing severe malaria. Eight of our staff are in bed with malaria, so malaria this time is not only in the valley of Muzarabani; the epidemiology is shifting upwards too.
Of the Covid-19, we have not had any suspects in our district or at the hospital. But we are on high alert. We have closed the outpatient department so that we could make it ready for patients that might need special care.
We have no ICU, but we need the following equipment that can give us a sense of special care.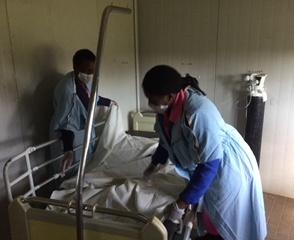 Oxygen concentrators. These do not need skilled personnel to operate them, as is required for ventilators, which need anaesthetists;
White overalls , face shields, goggles, theater caps, gowns, pulseoximeters, surgical masks, latex gloves, N95masks. (The Ministry of Health and Child Care has given us one of the white overalls used by health workers who have close contact with severely ill patients.);
Fuel and new tyres for the ambulance;
Bed screens (paraventi);
Infrared thermometers.
Pregnant women still come from far and wide to deliver at St Albert's
We cannot send them away, so we still attend to them. Caesarean sections are being performed in very precarious situation because the anaesthetic machine is not reliable, and the multiparameter monitor also broke down so the operation theatre is a risk for the patient.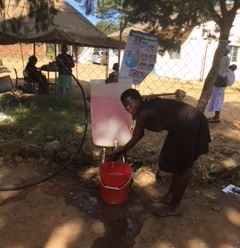 As part of our Covid-19 preparedness
We have put a hand washing facility at the gate. Everyone who enters or leaves MUST wash their hands.
Outside the gate is a team of nurses who are screening everyone who comes to hospital. We have no test kits. The nurses measure the temperature and take a simple history:
Age and any travel or contact with a traveler
Any chronic condition, such as hypertension, diabetes mellitus, bronchial asthma, tumours, etc.
Any cough, fever or chest discomfort.

Patients are given a slip of paper with the results to show staff when they enter the hospital.